Electricity – the key for a prosperous and full life…
A humanitarian aid –Renewable of course
Business idea:
Together with the NGO Ankarfoundation
(www,ankarstiftelsen.se)
improving the living condition in Amazonas region Colombia, Peru and Brazil.
jabeSPINPower™ (jSP℗2016)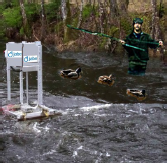 based on a hydrokinetic Run on River technic (RoR), a vertical and mobile turbine, requires no fixed construction or dam facilities, focused on OFF-GRID or totally "unplugged" remote areas. Complying with the environment SE/EU code and in symbioses with Mother Nature with no blocking of transportation routes etc. A standard rig delivers a simple and safe power (VDC) same as in our private cars. Can easily be changes to customers requirement and a single unit will deliver more than 10 MW / year, all caused by the circumstances. j
abeEnergy AB ©2012
a Swedish development company,
subsidiary of jabeKonsult AB© 1979
and hold since
(jSP℗2016)
the patent too this completely unique technique, working 24/7 and gives unlimited electricity forever.